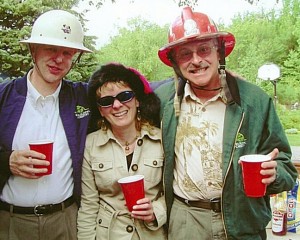 You have the greatest place in town for people to have a good time. When the office planners want a cookout or somewhere to have a social gathering, yours is the place they appreciate. The soccer or volleyball team parties are always at your place.
The fun part is that you love to come home and enjoy your landscape yourself because it is a wonderful, happy, and fun place to be. It is your destination.
Items for you to consider for your entertaining landscape:
Colorful patio gardens
A fun outdoor shower
Brick ovens and outdoor cooking appliances
Outdoor lighting to enjoy your place after dark
Lawn sports areas
Carefree drip irrigation
To keep your yard a fun place to be, Eco-Building & Forestry can even teach you fun ways to quickly maintain your landscape or we can do it for you while wearing our Hawaiian shirts!
You can plan to interact in the planning and designing of your new landscape and you'll find this to be a lot of fun too!
The work can be done quickly to change over your landscape, so you can begin enjoying it immediately. If you are planning a big event, let us know ahead of time, and we help create the right atmosphere for you.