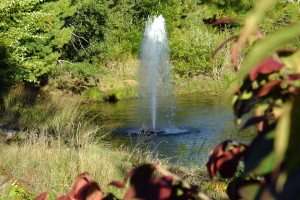 Good ponds just don't happen, they are planned.  Eco-Building & Forestry has designed many ponds that avoid many common problems.
Pond Assessments By The Experts
Ponds are not a typical landscape and there are simply no quick fixes to problems.  If you have an existing pond that has poor water quality, leaks, has wildlife problems or fish kills, Eco-Building & Forestry can help.  We have an assessment process that not only investigates  pond issues but also determines how surrounding land and activities are affecting your pond.
Organic Pond Options
As an alternative to traditional pond management, organic pond management reduces the need to contaminate your pond with pesticides, dyes and practices that can effect your drinking water, pets, fish and wildlife that visit your pond.
At Eco-Building & Forestry we can provide pond management that will not compromise your environmental values.
Kasco Marine
Eco-Building & Forestry has partnered with Kasco Marine as a distributor to provide sustainable pond options.
High efficiency fountains
Reliable aeration equipment for ponds, lakes and fish farms
De-icing equipment for docks, boats, harbors and even duck hunters!
Industrial strength lineup of aeration, mixing, and destratifying equipment for water treatment processes
Design and consulting services for innovative solutions anywhere
Kasco Marine Equipment is built and tested in Prescott, Wisconsin USA where temperatures vary between -36˚F/-38˚C and +101 F˚/38˚C  (that's really cold and really hot!)