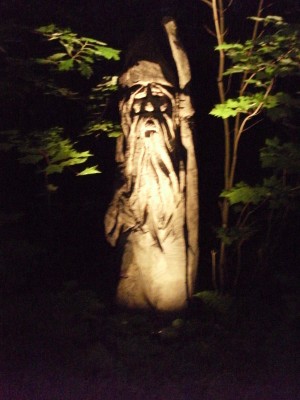 More people are looking for better ways of doing things in their landscape and doing them in an environmentally friendly way.  Your landscape does not need to be an "energy hog";  not with today's options for efficiency and functional use.
Here are some eco-options for your landscape:
Solar isn't just for electricity for your home any more.  Small inexpensive solar panels and controls are available for use in your landscape. They can power lights, fans, and even recharge your friends' electrical devices when they visit.  We use small solar panels to run the blowers to inflate our high tunnel (greenhouse), outdoor lighting, electric fences and water pump.
Outdoor lighting can be very important for your safe and convenient use of the outdoors.  Many people only have the evenings after work to enjoy their landscape.  Lighting it can extend the use and make it enjoyable.  Outdoor landscape lighting can be soft, inviting and efficient if done correctly.  There are many options including quality solar powered lights, low-voltage transformers and a variety of fixtures.  Your outdoor lighting should not look like an airport runway or an alien landing zone.  Don't be afraid to ask for help with this. Most people need some professional help with the artistry and functionality of outdoor lighting.
LED's or light emitting diodes are coming on strong and Eco-Building Foresty, LLC., has been building our own fixtures and using them in landscapes since 2004.  We have a lot of experience in this area and can help you decide if LED's fit your particular application.