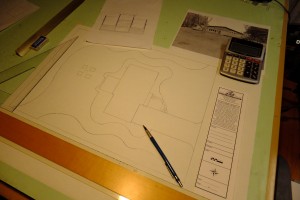 Do you want to integrate your landscape with nature? Are you interested in a landscape that offers comfort and convenience? Do you want to harmonize your property with your lifestyle?
Design and planning is the second component to achieving a sustainable property. It is us working together to form a set of directions – a physical road map for the metamorphosis of the landscape.
If you are looking for a custom design for your property using your input and our knowledge in interpreting what the land can support, we can help. At Eco-Building & Forestry our design services are flexible, dynamic and unique, creating abundance while enhancing the resource. We can demonstrate options, features and diversity with your plan in a way that you can "see" it. Our design will build resilience into your property while keeping it responsive to people and the environment.
The design is created for you by using the information gathered during the initial consultation and assessment. The desired benefits and environmental considerations are incorporated into the design. The Plan process provides information for us and the customer on the steps needed for preparation, material selection, construction, changes to the property and maintenance.
Design and planning are a hassle free way to achieve your goals:
Creation of budget options and phases of the project to meet the customer's needs
Assisting the customer with creative solutions that satisfy compliance and guideline requirements
Protection of existing features and the environment that saves time and money
Selection of plants and materials for an enduring landscape
Creation of spaces and benefits for people