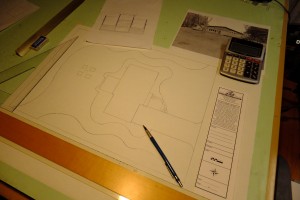 At Eco-Building & Forestry, we specialize in Eco-Plans landscape design plans for your property, whether it is a new build or a retrofit.  An Eco-Plan even takes into account the affect that your project will have on your property taxes and how to minimize that effect.
An Eco-Plan offers the following benefits:
1. Short- and long-term costs for the entire project are known in advance
2. Fewer mistakes are made
3. Your job is done once … correctly
4. Cost savings are affected by doing all similar tasks at one time
5. Energy efficiencies are gained by using the property resources to your benefit
6. Increased comfort is derived from an applied science design
7. Time is saved through early decisions on maintenance and functionality
8. Improved wellness is gained by integrating a design for your healthy lifestyle
9. Enhancement is made to the existing environment rather than damage
10. Legal and accounting issues are properly addressed and handled during the project.
There are several major elements to consider in planning and designing your landscape:
Your lifestyle/personality.  Your property should be a destination where you want to spend as much time as possible. To that end, it is essential to plan your landscape around your lifestyle and so that if fits your personality.
Your budget.  Rather than trying to create estimates that lack reality; it is often easier to do budgeting. This is a very simple process of deciding what you want to spend and then researching the options that fit that amount. Your landscape budget not only needs to consider the initial costs but also the maintenance expenses. At Eco-Building & Forestry we can help you with the budget process.
Your expectations.  What you expect out of your landscape has to be dealt with in the design process. It might take you time to express all of the things that are important for you. This is why this process is collaborative and may take longer than actually installing your new landscape!
Zoning restrictions.  Our experience enables you to plan and design a landscape that complies with municipal and state zoning requirements.
Your neighbors.  The reasons many people give for wanting to change a landscape are to achieve privacy, reduce noise or cover up something unsightly. Including surrounding properties in your design considerations is often very important.
Time of year.  Planning can be done at any time of year, as can a design.  The only restriction might be access to view contours or other features of your property during the winter months, and the snow can also be beneficial in illustrating areas in need of reshaping.
Your house.  Where your house is situated (sited) on the property and where elements such as the septic system are located can impact your design.
—
Eco-Building & Forestry has landscape designers to assist you in planning property and functions to fit your lifestyle.  There are fees and travel costs involved, and most clients have found that the extra time involved in proper planning more than pays for itself in making the right decisions and avoiding costly last-minute change orders.
Two planning and design tools available to assist you are our Systems for Success in Sustainable Landscapes program and the Eco-Building & Forestry Property Owner's Questionnaire.  The Systems program highlights the steps necessary to ensure your landscape is what you want, and the best success comes when each of the steps is used.  The questionnaire is the best way to get started, regardless of where you live.