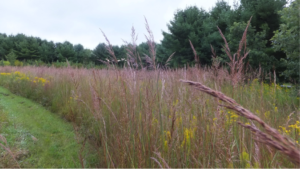 Do you want to restore a natural plant community where you live? Native plantings can offer low-maintenance options to enhance your immediate environment. Restoration can invigorate your property by returning function to the soil and expanding beneficial flora and fauna.
Prairie Plantings
Woodland Plantings
Wetland and Shoreline Planting
Wildlife Plantings
Forestry Ecosystem Management (Holistic)
Property owners maximizing their forest lifestyle
Management
Trails/recreation/bridges
Wildlife habitation/habitat
Food plots, deer stand coordination
Mushrooms, firewood
Balancing recreation with habitat / environment awareness
You might only have one opportunity in your lifetime to harvest your forest to sell timber, but good forest management can provide a lifetime of benefits for you that future generations will enjoy too!