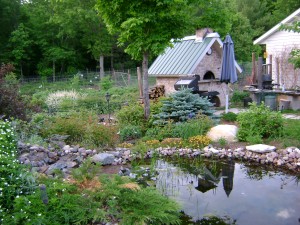 Why We Offer Unique Features
Of course the easy answer is Eco-Building & Forestry offers unique features in sustainable landscapes because nobody else is! But the real answer is you! Many people are asking for things in their landscape that they can use every day as part of a healthy lifestyle.
Personality & Lifestyle Features
Features can be designed, built and used in a way that fits your lifestyle and how you see things. These features can be personally rewarding and beneft the environment at the same time.
Brick Ovens — Bring the family back together for healthy, fun meals
Outdoor Showers — Are functional, seductive and return water directly to the environment
Greenhouses — Extend the season and are cheaper than just one warm climate vacation
Patios — Long lasting and great ways to spend more time outdooors
Ponds — Put wildlife in easy sight and create easthetic areas
Outdoor Lighting — More efficient than ever and enhances safety