In very early spring we have a narrow window of opportunity to dig and install our largest trees for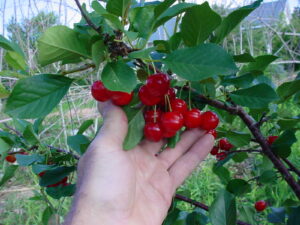 your landscape. We have a limited inventory of these trees and they are on sale! But don't hesitate because we only transplant these trees when they are fully dormant – usually from mid-April until the end of April. We want you to be successful with your tree planting. Tell us how you are going to use the trees and other specifics of your planting site so that we can guide you to achieve your goals.
Here's some package deals for the Stevens Point/Wausau area:
10 Large Deciduous Trees Cash and Carry for only $500+tax. These are conservation grade trees perfect for screening, privacy and shade. Some may be root bound, irregular or not perfect. We will choose the best trees for you based on information that you provide. You will need a 16 foot trailer for transport and some muscle to load and plant.  We can provide other information for hauling, planting and care. No warranty with this purchase.
10 Large Deciduous Trees Including Delivery and Installation for $2650+tax. Similar to the "cash and carry trees" special above, but we do all the work except providing mulch. The property owner marks the locations prior to our arrival. With proper care most of these trees will do fine, however a warranty is not included in this special pricing.
10 Large Deciduous Trees Installed with a 1 year Limited Warranty For $4000+tax. We provide a pre-planting visit for marking locations, DiggersHotline marking, complete installation and follow up health visit.
If you missed this spring sale; don't worry! We have other trees and plants that may work for your situation and time of year that is convenient for you.
Our plant nursery includes many unique varieties of trees, shrubs and perennials. We know they are hardy because we grow them here. Our inventory is constantly changing as plants go out the door and new ones are started. So,we may not have the exact plant you are looking for, but we nearly always have options for the correct plant in the right place! Our property is not normally open to the public, but if you would like a private nursery tour in preparation for a project that we will be working on with you, please contact us to make an appointment.