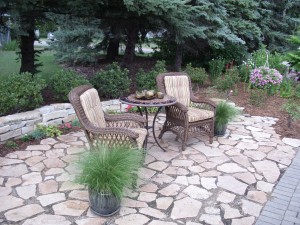 Patios are certainly a feature of sustainable landscapes.  Spending more time outside in nature, outdoor cooking, leisure and entertaining are all reasons for an outdoor room with a floor.
Design, sizing, materials and construction are all aspects of a properly built patio.  Many of the materials used to make patios consume a lot of energy in production, shipping and installation, so careful preparation is in order.
Things you can consider for your patio:
Placement – will if be easy to access and use?
Size – Many people are tempted to make patios too large to be comfortable.  What size do you need?
Shape – Do you need a certain shape for your property or use?
Materials – Do you need something flexible that can be taken up and changed?  Or would you like a continuous permanent material like concrete?
Budget – What is your budget?  Budget drives size and type of materials.
Eco-Building & Forestry, LLC., can show you some easy ways to design an outdoor room and follow through with installation or coordination of other contractors.