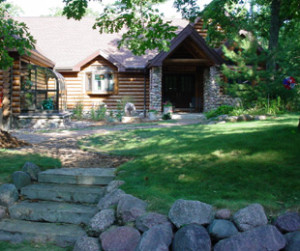 Does your landscape make a bold statement about you and your family?
Does it show off your professional accomplishments?
Does it achieve what you want it to do?
Do the neighbors appreciate how it adds to their property value?
Your property should feature the landscape where every detail showcases your accomplishments. Neighbors and friends should think of it as the most phenomenal place in town … to spend an evening, to pop in for a cold one, or to be boldly entertained. Yet it also serves as your peaceful retreat because everything gets down with little effort on your part.
For you to enjoy and be proud of that low maintenance, highly sustainable environment that fits your bold lifestyle, you know and understand there is a cost – and more than what it would take to do it by yourself. What matters most is that it just gets done right.
Be the first on your block to show others how to do a sustainable landscape! Some of the things you might like are quality, functional turf that can be used to practice your golf swing and impressive solar panels can power some of your outdoor features. Items you will also want to consider include wood-fired grills and ovens, Econormous™ trees, premium large shrubs, stately grasses, large ponds, brick ovens and outdoor cooking, patio gardens, drip and micro-irrigation, and low-voltage lighting (for all to see).