What's a cruising stick!!?? Well, foresters that manage land use a variety of measuring devices. Measuring growing trees isn't any different than checking the progress of your financial portfolio.
Forest management goals for wildlife, aesthetics, hunting, bird watching, income production or some mix of these things, all depend on measurements.
The 3-in-1 cruising stick makes three measurements with one tool:
Basal Area: This measurement tells you how dense your forest is.
Tree Diameter: This measurement tells you how large the tree is at it's base.
Tree Height: You guessed it! Guessing tree height is difficult without a way to measure it.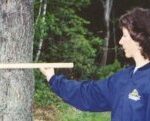 On going measurement of the forest helps decide what needs to be done next. Trees that grow too fast, too slow, too short or even too tall can create problems. You can do regular measurement of your forest to avoid problems, improve the health of your forest and reach your goals.
To purchase a cruising stick, visit our online store.