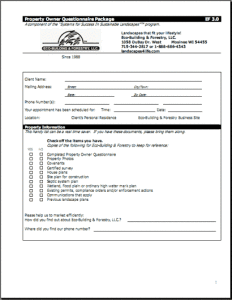 At Eco-Building & Forestry we developed The Property Owner Questionnaire to better serve our customers needs. It has become so popular that other landscape companies now use our Questionnaire for their own customers. Now you can use it to get started on your own sustainable landscape!
The Property Owner Questionnaire (POQ) is a great way to start a discussion on outdoor needs and wants. Remember, if you want to create a truly sustainable landscape; the thinking, effort and planning comes first. Very few landscape professionals will ask all of the questions in the POQ. And few do-it-yourselfers really think about their project before doing. The fifteen minutes that it takes to fill out the POQ will save you an incredible amount of time, money and aggravation.
The POQ helps you think about and discuss things that are important to you in your landscape. When there are two or more decision makers it is essential that each of them understands the others' needs and desires. The Questionnaire is a great way to take what is in your head and put it on paper.
The POQ starts with the collection of basic information. Do you know where your property lines are?  Are there restrictive covenants that might prohibit certain types of landscaping? Nothing is worse than making a plan and having expectations that can't be realized. The Questionnaire helps get this information to you early on.
Who the decision makers are and what your budget will be gets decided next.  It is no fun getting a bunch of estimates only to find out that you can't afford the project. The POQ helps you build your landscape based on what you have to spend and achieves agreement with other decision makers.
The POQ goes on to inventory your priorities, emphasis of your project, your style. maintenance needs and activities. There is even a section for Diggers Hotline, because they ask for very detailed information when it come to marking utilities on your property.
Would you like to have your very own copy of the Property Owner Questionnaire that we created?
Download your Eco-Building & Forestry Property Owner Questionnaire today. Use it how ever you want, there is no commitment.