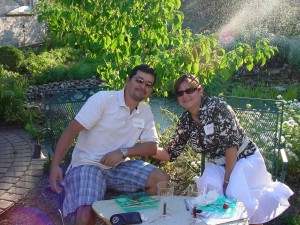 The secret to a landscape that benefits you for years to come is that it fits your personality and lifestyle.
Your lifestyle changes over time so a permanent landscape should be flexible for your needs.  However, your personality doesn't change, so your landscape should match the way you see and feel about things.
At Eco-Building & Forestry we are process oriented in creating a landscape that fits your lifestyle and personality.  And it is as easy as 1-2-3. Here is how we start working with you.
Step 1: Initial Interview: Helps understand your personality and how it relates to your landscape. Let's get together for coffee or an after-work beverage and chat at a mutual location!
Step 2: Property Owner Questionaire: Allows the property owners to list their likes, dislikes, sought after features and collects other vital information that only you might know about your lifestyle.
Step 3: On-Site Assessment: A visit to your property, with you present, by Tom Girolamo. This assessment is a service we offer that involves you with an initial review of your property to assess, discover, provide solutions and formulate next steps of how your property will fit your lifestyle and personality.
What is your personality? What do you want to do with your property? See if you can find one or two of your strong personality traits below:
Bold Personalities: Like to take control and show others what can be done. You might like to make statements with your landscape and show off the newest ideas.
Perfect Personalities: Perfection oriented people like clean and crisp landscape design. Don't let someone tell you a mixed prairie planting is going to look good to you-it won't. You will like a landscape that is organized and not "weedy" looking
Fun Personalities: If you are a fun person you may enjoy entertaining others, vibrant colors and whimisical details in the landscape. You can even find fun ways to maintain your landscape!
Easy Going [Peace] Personalities: Most people fit in this category. You may want an easy to maintain landscape without hassles. You might not mind a few weeds if it means being able to relax and enjoy what you have.